This site is part of an affiliate sales network and receives compensation for sending traffic to partner sites, such as CreditCards.com. This compensation may impact how and where links appear on this site. This site does not include all financial companies or all available financial offers.
Switzerland is home for one of us at the moment. If you follow us on Instagram, you would see tons of pictures from Switzerland.
Preethi Chandrasekhar of The Eager Traveler, who last wrote last wrote about Sri Lanka, Bogota, Colombia, Medellin, Colombia, Carmel, California, Portugal, Austria, Czech Republic,  Anguilla and Dominican Republic, recently went and here are her tips should you decide to visit.
If you would like to write about your recent travel experiences on The Flight Deal, submit your pitch here.
====
The Bernese Oberland region in Switzerland has everything – breathtaking views, incredible mountains, raw nature, sparkling lakes – the best of Switzerland indeed! This region is home to the impressive peaks of Eiger, Monch, and Jungfrau and also the Jungfraujoch or what's often referred to as the Top of Europe. I recently decided to embark on a five-day moderately difficult trekking adventure with my partner through this region. The idea was to hike for a few hours every day and end at a different accommodation each night. We worked with Alpenwild to help transport luggage on the hike and collaborated with @myswitzerland.com who provided me with two first class Swiss Rail passes for this journey.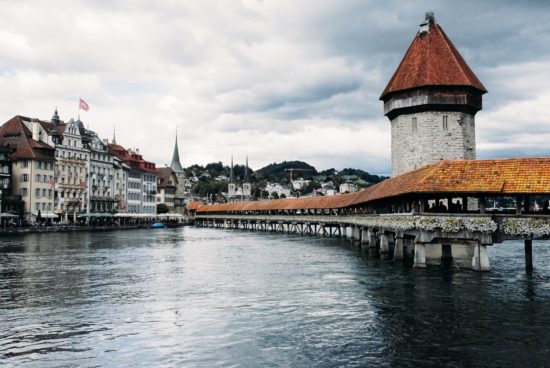 GETTING IN
We flew into Zurich from SFO and spent about two days exploring this city. Getting around Switzerland with a Swiss Rail Pass is the way to go because it lets you ride any train for free all day long during your stay! You even get half off the cable cars and 25% off the ride up to Jungfrau which is great as that ticket by itself is quite expensive. There is nothing more charming than traveling through the Alps by train, along beautiful lakes and rolling green hills. There is also nothing more convenient than traveling through Switzerland on a Swiss Rail Pass worry free without requiring any additional tickets for trains, buses and boats!
GETTING AROUND
Zurich
Old Town
Zurich is a charming city that deserves at least two days in my opinion. Getting around Zurich old town (Altstadt) by foot is the best way to explore, but if you're not within walking distance, take advantage of the city's tram system. Bus Nos. 31 and 33 also make multiple stops here. Our favorite part about old town was hanging out by the Muhlesteg Footbridge. It's the one with all the love locks yes! From this bridge you can also see the twin towers of the Great Minister Church (Grossmunster) which was the starting place of the Protestant Reformation in Zurich. This magnificent church is believed to be situated on top of the graves of the city's patron saints of Felix and Regula. We paid about 4E each to climb the stairs to the top of the cathedral but it was so worth the panoramic views of the lake! From November to February, the cathedral is open Monday through Saturday from 10 a.m. to 5 p.m. Between March and October, the property is open until 6 p.m. every day except Sunday. Minister of Our Lady (Fraumunster) is one of the four main churches of Zurich and its green-colored iconic spire tops Zurich's skyline and can be seen from the top of the Grossmunster cathedral. An entrance fee of 5 francs applies to visitors 17 and older not attending a service. St. Peter Church is the oldest parish church in Zurich and you can still see its original 9th century foundation walls beneath the chancel. This church is known for the largest clock face in Europe.
Shopping
Our favorite street in Zurich is the Bahnhofstrasse and you can actually walk this all the way from Old Town from Hauptbahnhof station to the lake. This street is made for people watching and high-end shops including Louis Vuitton, Chanel and Armani, although my favorite pastime was stepping into pastry shops like the Confiserie Sprungli and noshing on pastries. Budget conscious shoppers can head over to the Niederdorf and Langstrasse areas. The touristy Niederdorf is filled with cute boutiques and coffee shops as well as charming restaurants with outdoor courtyards not to be missed. Our pick is the Neumarkt Restaurant with its gorgeous garden and even though it's in a touristy area, it is mostly locals who walk down a quiet side street to find this place.
Bernese Oberland Hut to Hut Trek – We worked with Alpenwild, based out of Utah, that specializes in alps trekking for this trip. But we didn't want to hike with a random group of people and wake up at a set time every day and eat lunch at a specific time/place. Alpenwild offered the option of a self-guided trek which best fit our needs. We worked with them to choose certain hotels and huts for the nights and they sent us a packet of information which included detailed trail maps, directions, weather information and contact information. The Bernese Oberland network of trails is also very well marked and except for a few places where we were a little uncertain, we found this to be true overall. Alpenwild transferred our luggage by local taxi each day from one hotel to another so we were free to hike with just our backpacks filled with food, water, and layered clothing for changing weather.
DAY 1
We started our day with a 3-hour train ride to Meiringen and then a short bus ride up to the beautiful and remote Chalet-Schwarzwaldalp for the night. We celebrated my husband's birthday here with a simple meal of local veal, wine, and dessert (with a little candle on top). Dinner was out in the large backyard with the towering alps for company.
DAY 2
This morning we woke up pretty early, had our breakfast of bread and cheese and set out with our backpacks by 8am. We hiked through the Rosenlauital and crossed over the Grosse Scheidegg which took about three hours. Oh and I love photography so if not for that, you could even attempt this in less time. We continued on a traverse to First and chose to walk into the little town of Grindelwald. But if you're tired, at First you can hop on a zipline, scooter or tram to Grindelwald as well. We stopped at the little restaurant on Grosse Scheidegg for a meal before continuing onward. At Grindelwald we stayed the night at the Hotel Belvedere, which we chose for its hot tub. We didn't regret it! This hotel also has an incredible view of Mt. Eiger from the dining area. Grindelwald is a village in the Bernese Alps and a popular base for climbers ascending the iconic north face of Mt. Eiger. Strolling through the town before dinner, I realized how crowded it can get and was glad to get off my feet and settle in for an Italian dinner of pizza and wine with a view of the lovely Mt. Eiger behind me at a local restaurant we just walked into.
DAY 3
Today was an exciting day. We left the hotel and took a train from the cute Grindelwald station for about 20 minutes to ascend the Eiger trail from Grindelwald to Alpiglen and on to Kleine Scheidegg. When we got off the train at Alpiglen station we made sure to check in with the ranger on directions to the trailhead as this was unclear to us. This was one of the few areas where we didn't see any signs for a trail. It started out as a wet morning and the rain continued as we walked past a little gate into a meadow. We walked by some cows meandering around and steadily started climbing upward on the trail. The rain had thickened by now but our REI rain gear was top notch. Our rain pants and shell ensured we didn't get wet, and our backpack covers protected our camera gear and food very well.
About an hour or so into the hike I turned back and was elated to find another couple hiking behind us. It reassured us we were on the right path. Apart from them we didn't encounter a single soul. It was truly beautiful as occasionally the rain would slow to a drizzle, the fog ahead would lift and we would catch glimpses of meadows and hamlets far beneath us. At one point I saw a man running down the mountain. It turned out to be a European runner who warned us about a snow field further ahead. And sure enough we spotted at least three different areas where we had to tread very carefully through the snow to get to the other side. I was glad for the hikers behind us who helped us cross, for one slip and we would have careened down the mountain. We made it onto Mannlichen to the little restaurant with the lookout point and then further on to Kleine Scheidegg through a valley of flowers. The rain stopped and the sun came out blazing. We saw a little red train at the station here and several trams. We continued walking onto Mannlichen and took the tram to Wengen, our town for this night. You can hike down to Wengen but it had already been about 7 hours by now and our views of Mt. Eiger were also shrouded in fog the entire time so I was ready to get off my feet and get into a hot shower. Wengen stole my heart. Don't miss the views when descending down into the village by tram. It's like a fairytale. Walking through the little town is delightful as we looked for a Fondue spot for dinner before retiring to our room at the Hotel Victoria Lauberhorn for some much needed rest!
DAY 4
From Wengen we hopped on a train, the Jungrau railway to the Alpine crossroads of Kleine Scheidegg. We then took a cog-wheel that took us through a tunnel through the Eiger on an ascent to the Jungfraujoch, the highest railway station in Europe. Note that thanks to the Swiss Rail Pass the cogwheel train was discounted. At the top we hiked in the snow on the Aletschglacier to the Monchsjochhutte for lunch. This took us about 2-3 hours and we didn't realize how tough it was to walk in the snow but we used our hiking poles to help us along. Lunch at the hut was a real treat and the views here were incredible. On our way down we took the train into Lauterbrunnen from Kleine Scheidegg (or you can walk down for 1.5 hours).
We stayed at the Hotel Oberland on the main drag. We spent the rest of the evening in a café in Lauterbrunnen, admiring this town set in a valley featuring rocky cliffs and the 300m high Staubbach Falls. The glacial waters of Trummelback Falls are also worth seeing. This might easily be one of my favorite towns on this route.
DAY 5
Today we packed our pajamas and an extra pair of clothing as we were going to stay in a hut in the alps and our luggage wasn't going to be able to meet us as there were no roads for vehicles to come through. We were ascending the Lauterbrunnen Valley to Obersteinberg, a remote mountain hut dating to the late 1800s. Obersteinberg sits at an elevation of 5833 feet, a full 2850 feet of vertical ascent from our starting point. We stopped at a little hamlet on the way to grab some cheese and bread and then hiked uphill for about 5 hours before we got to the most incredible hut I have ever seen in my life. Here you don't have electricity or internet so you sit outside with your wine and food and simply stare at the peaks in front of you. Dinner was a delicious affair in the cozy dining room with other hikers. The hut does not have showers. It also has dorm room accommodations as well as limited private rooms with a basin and hot water upon request in case you want to wash up. Post dinner, you simply snuggle into your comforter and knock yourself out. The views in the morning from the room are breathtaking.
DAY 6
We left Obersteinberg with a heavy heart and wished we had stayed another night in this remote location. Today we were hiking into the little village of Gimmelwald, a steep walk for about 4 hours before continuing to the town of Murren for the next three nights. We arrived in Gimmelwald for lunch – a town that Rick Steves made famous in his guidebooks. There aren't too many restaurant options but we found a cute café in town with a lovely view to grab some food before heading to Murren and the hotel Eiger for our remaining three nights.
DAY 7
Our hike in this region officially ended at this point and we decided to stay on to explore the Schilthorn which we descended by tram. The Shilthorn is a summit in Europe and overlooks the Lauterbrunnen valley but is also the highest mountain in the range lying north of the Sefinenfurgge Pass. It takes about 30 minutes by cable car to reach the very top of the 2970m high Schilthorn to enjoy the views of Mt Eiger, Monch and the Jungfrau – the three well known peaks in the Bernese region. We also made it to the revolving restaurant Piz Gloria – featured in the James Bond movie "On Her Majesty's Secret Service" and took in the lovely panoramic views of Switzerland.
DAY 8
Today we relaxed in Murren and took the furnicular (super fun ride) to Allmendhubel, a starting point for many hikes but it's also a great place to just chill and hang out among the flower gardens! Truth be told, I could have done another short hike but my husband was done with hiking so we took the delightful short furnicular ride back into town to enjoy the remainder of our stay in Murren!
Lucerne
Post hike we decided to spend a few days in Lucerne and used our Swiss Rail Pass to head from Zurich to Lucerne, which took less than an hour. Lucerne is a beautiful city situated on the banks of a lake. Upon arriving the first thing I noticed was how the lake area was incredibly bustling with people and activity. For a first-time visitor, the iconic chapel bridge is a must see. This bridge dates back to 1333 when it was originally constructed and it is a wooden footbridge that crosses the Reuss River in the heart of the city. Notice the unique paintings on the interior of the covered bridge, depicting local, historic scenes from Lucerne. The bridge also features the iconic 140 feet tall Wasserturm (water tower). The tower used to be a prison and torture house but today it is closed to the public. A stroll through the chapel bridge will take you into the medieval quarters of the city where you can start exploring some of the city's attractions. I love the views across Lake Lucerne from this part of town. You can take a boat cruise around the lake or stroll along the banks to get a deeper understanding of the buildings around and maybe even stop by at a café for a drink while people watching.
Lucerne's Old Town neighborhood is characterized by its gorgeous medieval architecture and narrow streets. I loved walking around Old Town Lucerne, and taking in the beautiful architecture. Take for example the Church of St. Leodegar. It's located at the base of old Town next to the lake. This church dates back to the mid-17th century and the architecture is a spectacular construction and landmark worth visiting. The Lucerne Town hall is also worth a visit for its architecture inspired by the Italian Renaissance era. The clock tower is a feature that definitely stands out among the old Town's neighborhood and adds old world charm to this area.
Seeing Switzerland by foot via the mighty alps gave us an immersive look into a country with some of the most beautiful landscapes we have ever seen! I also didn't think I could ever do a hut to hut adventure and I realized how easy and fulfilling an active vacation like this can be. I not only discovered a different side of Switzerland but on this trip I also learnt new things about myself – and this is the power of travel my friends!
About the Author:
Preethi Chandrasekhar is a freelance travel writer/influencer with a passion for sharing her travel stories to inspire people to explore more of this beautiful world. She's interested in experiential travel and writes frequently about off the beaten path destinations. Follow her on Instagram and her blog, The Eager Traveler, for more of her travel pics and stories!
=====
To make sure you receive our latest deals, LIKE our The Flight Deal Facebook Page, follow us on Twitter @TheFlightDeal, Threads @TheFlightDeal or The Flight Deal WhatsApp channel or subscribe to The Flight Deal RSS Feed or Subscribe via Email (Once a Day)
The Flight Deal does not sell travel products or services. We provide you with information about third-party travel suppliers' offers, and link you to their sites. The information posted by The Flight Deal is valid at the time of publication. However, we have no control over the suppliers, and we therefore do not warrant or guarantee that their offers will not change or become unavailable. Nor are we responsible for their products, services or site content. Please see their sites for their most up-to-date offer information and all applicable terms and conditions.