The Flight Deal Team chose Tuscany as the location for our annual group trip this year. We rented a villa via VRBO in the Province of Lucca and used it as a base to visit various parts of Tuscany. Here are a few practical tips if you ever plan on visiting.
Getting to Tuscany:
The major airports that serve Tuscany are in Florence and Pisa. However, flights from the US to Florence or Pisa are expensive. To save money, the majority of the team flew into Milan; it is the cheapest city in Italy to fly to from the US due to the intense competition between Alitalia, American, Delta, Emirates and United. On average, we paid approximately $700 per person for the dates we wanted. If you use points, members of the team had some luck with award availability to Florence on Iberia using AA miles or Avios.
Train:
From Milan, most of us took Trenitalia (Italian Rail) to Tuscany. The fare on average is about €40; the train ride from Milan to Lucca takes about 4 hours. If you are just going to Florence, it is about 1 and ½ hours on the Express train. We recommend you purchase your train tickets online ahead of time—in our experience, if you buy the train ticket at the machine at the station, you will likely need a credit card that is both chip and pin. Most US credit cards do not have a pin, making it difficult to complete the purchase. The added bonus of buying it online is that there is no need to validate the ticket before boarding. If you are in a rush, this can be a big time-saver!
Driving:
Some of us chose to rent cars in Milan and drive down to Lucca. If you are driving in Italy, be mindful of the Zona Traffico Limitato (ZTL).
These areas are reserved for drivers with permits and are meant to cut down traffic on streets not really built to handle the load. If you enter these zones, you will be fined and it'll be delivered to you in about 9 months (one of our team members got hit hard by this last year in Sicily). Adding insult to injury, your rental car agency will add their processing fee on top of the fine. In Tuscany, ZTLs exist in in Florence, Pisa and Lucca. We usually parked by the main train station, which is outside the ZTL but still central enough to most sites, and walked to our destination from there. Remember to bring coins for the parking meter as most machines don't take credit.
The Autostrade—the national highway system in Italy—are toll roads. We paid all of our tolls with a credit card, which is very convenient! Just look for the lane that says Carte (this translates to 'Card') if you want to pay by credit card. Do not go into the Telepass only lanes. There is no need to worry about having enough cash for the tolls as we did. In the Google Street View below, the cash only lane is on the left and the self serve lanes are to the right. Again, AVOID Telepass.
If you are using Google Maps for turn-by-turn navigation, be mindful that roads have multiple names and sometimes don't match exactly. Often the voice prompts are a bit delayed due to the GPS/tower signal so pay close attention to the route itself, especially at roundabouts. Bring a charging cord and car phone mount ahead of time to make life on the road easier. Also, be mindful of roaming charges when using Google Maps since there is no offline turn-by-turn navigation available (yet). You can always start the route then turn off data roaming. Some team members had some success using an offline navigation app such as Sygic or MapFactor—just get used to it by taking it for a spin before you go.
Be mindful of speed traps. Just because other cars zoom down the highway don't mean you should follow suit. You could incur a fine in the mail just like the ZTL fine mentioned earlier. The good thing is, speed trap are clearly marked and there are signs that warn you that you're approaching them.
First you'll see this warning: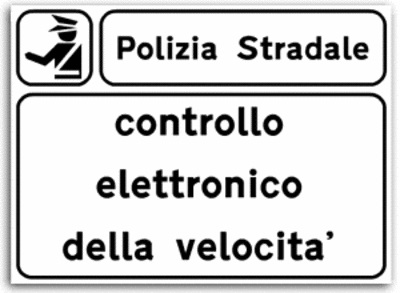 Then you'll see this about 500 meters down the road for the actual speed gun:

Some say these are fakes or they're non-functional. We wish we had brought a radar detector to find out. The 130KPH (80MPH) limit on the Autostrade is plenty fast for most people so why chance it?
Fill 'er up:
Gas is expensive compared to the US. At the time of this post, you may see a price of €1.50 at the pumps, but wait—that's per LITER! That's equivalent to about €5-6 a gallon. We recommend getting a diesel car there—they're more fuel efficient the price of diesel is cheaper than regular gasoline in Italy.
First, a language lesson: Chiuso = closed. Aperto = open. Aperto 24 Ore = open 24 hours. With the last option, even if the station is unattended and looks closed, you can still serve yourself while paying at a kiosk (generally with cash only). Fai da Te = self service and Servito = full service. Full-service is handled by an attendant and a bit more expensive but can take some of the stress out. Just say "il pieno per piacere" (fill 'er up please).
We had no issues pumping our own gas though. Keep this in mind:
Pull up to the pump and take notice of the pump number.
Find the payment kiosk/machine and follow the prompts on the screen (you can choose your language of choice).
If using cash, you just insert your bank notes and select which pump you are using.
If using a credit card, you simply insert the card for pre-authorization and select which pump you are using. We generally used debit cards for gas since many gas stations also utilize the chip/PIN combination cards mentioned above. If you're using a credit card, there are generally 3 options: €5, €20, or Pieno (full). You don't have to choose any of these options and can fill up as much or as little as you want.
When you return to the pump, just select the appropriate fuel-type (pump handles are color-coded to match the color of your gas tank. Typically green for regular gas, black for diesel, etc.) and start pumping.
Return to the payment station when you're done to get your receipt.
NOTE: Because the payment machines are connected to the Bancomat system for credit/debit processing, many of them shut down late at night so you will need to have cash on hand just in case. Please also note that gas stations do not usually have an ATM.
Outlet Shopping:
Part of the team did a lot of shopping at the outlets in Italy. We found a form of discrimination at check-out as there are usually hordes of Asian tourists that come in by the bus-load in order to shop there. If you are not Asian, you will likely be pulled out of the long check-out lines and directed to a separate cashier for faster service.
Credit Card Acceptance:
We did not run into any issues except at vending machines, where our credit cards without a pin gave us some difficulty (i.e. refer to above paragraph regarding the train tickets, as the ticket machine there does require a credit card with a pin). The majority of the stores and restaurants we visited accepted American Express. We also did not run into any dynamic currency conversion (DCC) issues with Visa or Mastercard — remember, DCC is a scam. Always choose to get charged in the local currency. If they charge you in US Dollars, ask them to cancel the transaction and re-run it. It is always a good idea to call your bank before you leave for your trip and put a travel notice on your account so they do not think there are fraudulent charges on your card.
Cinque Terre:
If you are going to Tuscany, you may want to visit the famed Cinque Terre. We recommend you get to La Spezia and then take the train to Cinque Terre from there. At La Spezia, train tickets to Cinque Terre are sold at the Tobacconist shop in the station (not at the regular ticket machines or the regular ticket counter). The fare is €2.25. If you only have time for one town, we consider Vernazza (the 4th town) to be the most picturesque.
If you are driving to La Spezia, the parking at the train station is very popular and fills up quickly. You can reserve a spot in advance here: La Spezia Station Parking. Free parking can also be had in lots that are a 15 minute walk away.
If you are planning to hike the Cinque Terre trail, bring plenty of water. A hiking stick may be helpful for some people as well, depending on your fitness level. A few members on our team were able to complete the full hike in about 6 hours.
Food:
We found the food in Tuscany to be excellent! We honestly didn't have a single bad meal, despite going to everything from Michelin-starred restaurants to local corner places. Expensive wines, like Brunello di Montacino (our favorite!), were reasonably priced — a lot of restaurants had them for under €50, compared to over $120 here in New York. You can also buy some amazingly good wine in the €15-25 range at the grocery store, i.e. Carrefour.
At Trattoria 13 Gobbi in Florence, we had one of the best pasta dishes ever–a simple pasta with bacon and spicy garlic oil. We liked it so much that we asked for another round of it. Like the wine, food was also very reasonably priced — pastas were usually under €15 and entrees were under €20. Compared to New York, even the Michelin-starred restaurants were considerably less expensive.
Quick tip about gelato: if you are ordering gelato at a gelateria and want two scoops, order it this way to get more → Order one scoop; when they are done scooping, ask them for a second scoop. Now they are committed to giving you a bigger scoop. We're calling this move the Gelato Hack.
Mobile Data:
We had multiple devices for mobile data. We had international phones with T-mobile, AT&T and Verizon. Data speed will depend on your device as one of our T-mobile phones on Android was only getting 2G. iPhone on T-mobile and AT&T was consistently getting 3G/LTE, which was a nice surprise.
We had two MiFi devices for sharing data. We used two providers to ensure 100% coverage (we were staying in a villa in the middle of nowhere and wanted to make sure we were provided some decent coverage). On both Vodafone and TIM, we were able to get about 5Mbps down and 2.5Mbps up. We bought 10GB plans for €30 + taxes. We recommend either one if you are going to Italy with an unlocked MiFi device. Both were activated relatively quickly—just remember to bring your passport to the store as they will need it in order to complete the activation process.
Follow us on Instagram:
For more pictures of our Tuscany trip – follow us on Instagram at Instagram.com/theflightdeal.
=====
To make sure you receive our latest deals, LIKE our The Flight Deal Facebook Page, follow us on Twitter @TheFlightDeal, or subscribe to The Flight Deal RSS Feed or Subscribe via Email (Once a Day)
The Flight Deal does not sell travel products or services. We provide you with information about third-party travel suppliers' offers, and link you to their sites. The information posted by The Flight Deal is valid at the time of publication. However, we have no control over the suppliers, and we therefore do not warrant or guarantee that their offers will not change or become unavailable. Nor are we responsible for their products, services or site content. Please see their sites for their most up-to-date offer information and all applicable terms and conditions.