If you travel internationally, you know that voice and data roaming is expensive. And if you had bought an iPhone in the US, you know that AT&T in the US will not provide you an unlock code. Without an unlock code, you cannot buy a prepaid SIM card at your destination to save on roaming! This is true even if you have fulfill your two year contract requirement. Traveling internationally, most use WiFi to save on roaming. But WiFi isn't as ubiquitous everywhere as data coverage, it often means that you go without features like GPS navigation.
Starting in November, this is going to change and you can buy an unlocked iPhone directly from Apple in the US. We are excited since now we don't need to buy the newest iPhone through grey-channels here or buy one aboard.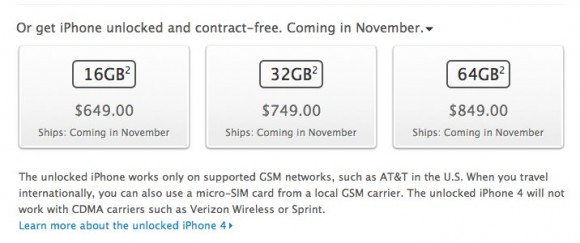 The one challenge with buying a prepaid SIM internationally is that people in the US cannot reach you without dialing an international number while using the prepaid SIM — which means, while you save money, it is costing your family or friends money. We have a simple solution:
Signup for Skype with in-bound calling (this will give you an US number)
Forward your calls to the Skype number
Problem solved.
Obviously, an unlocked iPhone is expensive. But if you travel internationally frequently, this is going to save you tons of money roaming! The one question that we do have is that AT&T to date have refused to unlock iPhones that have fulfilled the 2 year contract requirement, will they start now that unlocked iPhones are available for purchase in the United States?
======
To make sure you receive our latest deals, LIKE our  The Flight Deal Facebook Page, follow us on Twitter @TheFlightDeal, or subscribe to The Flight Deal RSS Feed or Subscribe via Email (Once a Day)