A few weeks ago, we wrote about traveling around a region using low cost carriers to save money over a single itinerary fare. Recently, another friend is about to travel to Langkawai, Malaysia to meet her friends during Golden Week and found the airfares to be relatively expensive. Using the tips we discussed previously, we helped our friend with her search for alternatives.
Before we go further, a little info on Langkawi. Langkawi features some of the best seemingly unending white sand beaches in Asia. In the last few years, major resorts like the Four Seasons to the Sheraton have built hotels in Langkawi. Like Bali and Phuket before it, Langkawi will become a major beach destination for Southeast Asia and now is probably the time to go before it becomes fully commercialized.
The cheapest fare we found for a single ticket itinerary was from Singapore Airlines for $1,517.
We found that Singapore, Bangkok, and Kuala Lumpur were pricing around $1,150 – $1,400 while Hong Kong was pricing at $900. Based on that, we looked at which carriers flew into Langkwai and found options were limited but flight options to Penang, Malaysia, were more readily available and are only a 3-hour ferry ride to Langkawi for approximately $18. So with that, we started looking for airfares to Penang from the four airports to see what city had the best all in pricing.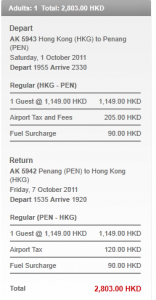 We found AirAsia had the best price from Hong Kong to Penang at 2,803 Hong Kong Dollars or approximately $360. So the all in cost for our friend was $1,300 (including ferry), saving her over $200. In terms of total travel time, she added approximately 6 hours total.
So now she is about to head to Langkawi and enjoy some of the best unspoiled beaches in Asia using a mixture of Delta, AirAsia, and a ferry.
Langkawi Background Information:
Visa: US Citizens do not require a visa

Currency: Ringgit. 1 USD = 2.98 Ringgit (29th August, 2011)